Rihanna and Matt Kemp Madly In Love
Rihanna and Matt Kemp Madly In Love – Rihanna is keeping her new romance with baseball star Matt Kemp as far out of the public spotlight as possible, but that doesn't mean that every detail will remain a secret. Recently, the two of them could not keep their hands off of each other when they were spotted at an industry night club in the West Hollywood area . The two of them continued to grab each other and kiss throughout the night. There were no pictures taken from the club, but the two of them have been seen kissing in public in night times several times previously. By all reports the two of them very much like each other and are willing to take their relationship to the next level.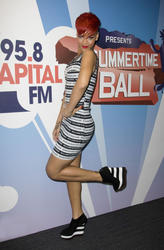 The duo danced for most of the night, in a very sexy way according to a source that was in the club. They claimed that the lovers partied in front of a number of other celebrities including Christina Milian, Amber Rose and NFL star Terell Ownens.
Rihanna said recently that having Matt Kemp in her life keeps her sane. She added that since she has no boyfriend, it is nice to be able to go out and have a good time with Kemp without getting caught up in all of the issues that are daunting in most Hollywood relationships.
Category: Black celebs news, Rihanna