Queen Latifah Covers Ebony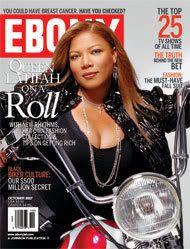 Queen Latifah appears on the cover of Ebony Magazine,in stands now.
The Queen posed on a Custom Bobber motorcycle as if it was her throne,and wore a black sexy catsuit and patent leather.
Latifah whose real name is Dana E. Owens talks about 'riding high and rolling out big things'.
She is currently working of her second jazz-soul-blues album " Trav'lin' Light" due on Sept. 25, and the launch of her full-figured clothing line, "Dana O".
This is what she had to say on being a plus size:
"For too long, people have devalued this so-called plus-size market. There are 65 million of us in America. For a long time, everything that was made for us was just big sheets of materials, boxy and wrong cuts. We have curves. We have a figure. Things need to be tailored more to our body types,"
Owens also talked about her deceased brother and friend Lance Owens , with whom she shared the passion of riding.She said:
"When I first started riding again, I was like, 'Come on, Wink, let's go for a ride.' And I felt connected to him by doing it because that was one of the things we most enjoyed. We were just crazy like that
In related news Latifah 's new movie "The Perfect Holiday", which stars Rachel True, Jill Marie Jones, Charlie Murphy,Gabrielle Union and Terrence Howard, will hit theaters on December 14th.

Category: Queen Latifah