Jill Marie Jones Speaks Of Leaving "Girlfriends"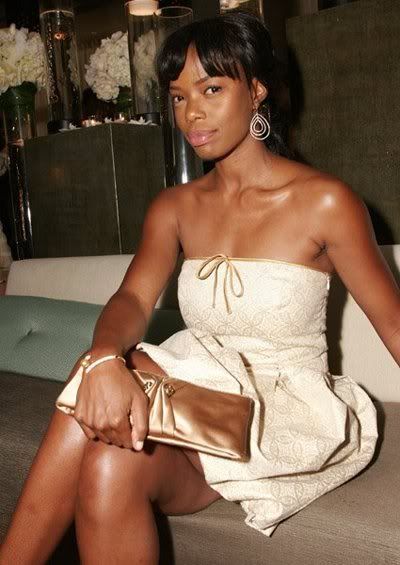 Jill Marie Jones sat down with Essence and talked about leaving the award-winning series, "Girlfriends",and her upcoming movie "The Comeback".Here is an excerpt of her interview.
And let me tell you, Toni Childs is sorely missed.
It was so much fun playing Toni Childs. I don't walk that walk in my daily life. I like to think that I'm a pretty nice person, but to be able to play the diva and say some of the things those types of characters say was a lot of fun.
Do you miss being a part of "Girlfriends"?
I do miss Girlfriends. I don't know if people know this, but Girlfriends was only my third audition. I booked my first audition for City Guys, a Saturday morning show. My second audition I didn't book and then Girlfriends was my third, so you have to understand that I still very green to this industry and there was the whole film world that I didn't know. So when I left Girlfriends after six years, there was just so much I wanted to know and do. I've just been having a ball having opportunities to do movies. It's just been great.
Were you unable to pursue a film career while on the show?

You have to understand when you do a television show that you go to work every day and come home and sleep in your own bed, which is great. It's like having a regular 9-to-5. But you're on hiatus for about two-and-a-half to three months in the summer. In order to do a film you would really have to book a job and shoot it in those few months. And because most television shows are in Los Angeles, it limits you. Already I've been to Louisiana twice to shoot two different films. I love the consistency of television, but it keeps you in Los Angeles and away from traveling to do other projects.
Nothing wrong with spreading your wings, which brings me to your departure from Girlfriends. Tracee Ellis Ross said in an interview that the reason you didn't return was because the cast did not receive the huge raise they were expecting. Is that true?
First of all, let me tell you why I left. I left because I wanted to do movies. My contract was up after my sixth season and people forget that just like the network can choose whether or not to renew your contract, I can also choose and evaluate whether or not I want to come back. My actor's chair that has Girlfriends and my name on it, you know the director's chair? Well, on the very last day of my sixth season, I told them to grab my chair and put it in my car for me. So why would I take my chair if I thought I was coming back? Believe you me, I would tell you. I've never made a decision based on money. I was on the show for six years and I think that's a good run. There's so much more I want to do in my career and so much more I want to know and learn, but my departure definitely had nothing to do with money.
So were you aware that this was the explanation given for your departure?
Someone sent that article to me a long time ago when it first came out, and you know, I love Tracee, I love Golden, I love Persia, I love Reggie. I really do feel like I was in the University of Girlfriends. I learned so much from them. I mean, where I started on Girlfriends and where I ended up is like night and day and that's because of the great cast I had to learn from. It's difficult when something has been set up for six years and then something changes. I didn't get upset about the comment. It's all good.
So tell me about the film you're shooting in Louisiana, The Comeback?
It's a lighthearted drama about a working class town that loses all its hopes, dreams and ambitions when the factory closes because it puts a lot of people out of work. So they have a lot of heart in this town, but not a lot of money. And then this little girl, Jasmine (Keke Palmer), ends up playing the quarterback of this local football team. The town rallies around this team and it brings the spirit back to the town. I play Jasmine's schoolteacher and her uncle's (Ice Cube) love interest, and Tasha Smith plays her mom. It's so cute; I was crying reading it because it just tugs at your heart.
Category: Jill Marie Jones