Eddie Murphy & Tracey Edmonds Engaged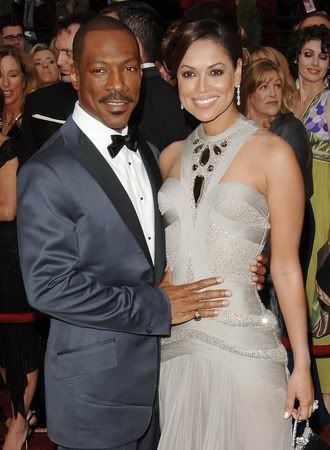 Eddie Murphy and girlfriend Tracey Edmonds are engaged.
According to OK! Magazine :
"The 46-year-old Dreamgirls actor proposed on July 25 with an 8-carat Cartier yellow diamond engagement ring.

"They're very adorable together, very happy," said a friend.

The pair reportedly plan on tying the knot before the end of the year with a low-key wedding."
In related news ,Eddie has an almost-four-month-old child with Spice Girl Melanie Brown.
Brown recently told essence.com:
""I went to London, and on my return flight I learned that he made that announcement about wanting a DNA test on that TV show. Then I saw him on the red carpet with Tracey Edmonds, and that's when I knew we were over.

"I called him… (He said) 'I'll call you back'–and he never did.

"He was the one who said that he wanted the (paternity) test, but when it came down to it, I had to force him to take it… (He) wouldn't even show up for a meeting about it. I nearly took him to court." "
Melanie is still considering legal actions against the 'Coming to America' actor,if he doesn't get more involved in their baby's welfare. :
"She says, "He has to take responsibility. I'm not talking about money–I'm talking about the fact that Angel has a mom and a dad." "
Category: Eddie Murphy, Tracey E. Edmonds