Chris Brown New Girlfriend Pictures
Chris Brown New Girlfriend Pictures – Here are few pictures of Chris Brown with his new girlfriend leaving a tattoo parlor in Hollywood yesterday.Rihanna and Chris Brown who have numerous matching tattoos will live to regret it according to Nydailynews:
"It's a terrible idea," says Dr. Jeffrey Rand of New York's Tattoo Removal Center. "All you need to do is look at the divorce rate [and] beyond that, the break-up rate of relationships before marriage."
And Hollywood's had no shortage of those …
Brown's multi-star neck tattoo cascaded into his sweater as he left the Los Angeles courtroom Monday where he's on trial for allegedly beating ex-girlfriend Rihanna. Oh – and she has her own version of his tat on her neck.



Picture source chrisbrown-online.net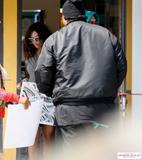 Category: Black celebs news, Chris Brown, Rihanna
Comments (110)
Trackback URL | Comments RSS Feed